Galąstuvas THE EDGE 14-24° PointSHARP
(Product code: 310820257413)
The above product images may vary from the ordered goods. There may be additive, stickers or other elements that are not included in the item. On your device setup screen is visible brand color may differ from the actual color of the product.
Unit: 1 vnt

Price: 14.80 €

Dear visitor,

Have question about this product?
Maybe you have found mistake?
Or maybe you know where the product is available in cheaper, and you want to negotiate the price?
Please provide detailed information in the inquiry form below and click the "Send" button Try to respond to inquiries during 1 working hour! Thanks for asking.
Dear visitor,
Do you want to get a discount code?
Fill out this form and only if there will be opportunities in the near future (during working hours) to provide you with discount code.
Please enter your email address to which you will be informed when the product will reappear in stock.
---
Ostrzałka ręczna do noży THE EDGE PointSharp


Dzięki regulacji kąta ostrzenia, trzem wnękom – do ostrzenia, polerowania oraz ostrzenia nożyczek, ostrzaloka jest wielozadaniowa.
Pozwoli naostrzyć większość kuchennych narzędzi, noży biwakowych itp.


Co wyróżnia ostrzałkę PointSharp:
aż trzy strefy ostrzenia umożliwiające ostrzenie oraz szlifowanie kling,
osobna ostrzałka do nożyczek,
lekka ale również wytrzymała obudowa,
płynna regulacja kąta ostrzenia w zakresie 14 - 24 °,
bezpieczna konstrukcja
Budowa ostrzałki:


Polimerowa lekka i solidna obudowa, sprawia iż ostrzałka jest wygodna i wytrzyma z nami przez długi czas. 
Najważniejszym elementem ostrzałki jest moletowane pokrętło moletowane pokrętło do płynnej zmiany kąta ostrzenia w dwóch ostrzałek typy V.
Trzecia ostrzałka nie posiada regulacji – dostosowano ją do wyprowadzania nożyczek. 

Powierzchnie ostrzące:
ostrzałka V coarse z węglika wolframu (regulowana) - do ostrzenia mocno stępionej krawędzi 
ostrzałka V fine ceramiczna (regulowana) - do szybkiego podostrzania i finalnego polerowania,
jednostronna ostrzałka ceramiczna - do ostrzenia nożyczek.
Spód ostrzałki jest antypoślizgowy co pozytywnie wpływa na komfort i bezpieczeństwo użytkownika podczas ostrzenia. 
Zalecane kąty przy poszczególnych rodzajach noży:
14°- 20° - noże kuchenne, noże do filetowania, narzędzia do precyzyjnego cięcia,
20 - 22° - noże edc, scyzoryki,
22 - 24° - duże foldery edc, noże myśliwskie, outdoorowe, noże taktyczne, noże survivalowe
Dane techniczne: 
Dane techniczne:
Kąt pochylenia noża [°]: 14 -24
Typ ostrza: gładki
Typ ostrzałki: typu V
Typ ostrzenia: szybkie podostrzenie
Materiał ścierny: ceramika (syntetyk), węglik wolframu
Wymiary:
Długość całkowita [mm]: 265
Masa [g]: 198
Szerokość [mm]: 45
Wysokość całkowita [mm]: 70
Producent: The Edge, Polska
EAN: 5906660005728
Symbol dostawcy: RM023
_______________________________
Oryginalny produkt marki The Edge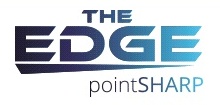 Jeżeli szukasz dobrej jakości produktów z kategorii survival i turystyka zapoznaj się z naszą ofertą.


| | | | |
| --- | --- | --- | --- |
| Manufacturer | The Edge | Product code | 310820257413 |
Delivery options and prices
| | |
| --- | --- |
| Product withdrawal from warehouse | Free |
| Product delivery to home | 3.50 € |
| Product delivery to the post office | 2.90 € |
| Prekės pristatymas į "LP Express 24" siuntų terminalą | 1.80 € |
| Prekės pristatymas į "Omniva" paštomatą | 2.60 € |
Product characteristics:
| | |
| --- | --- |
| The supply of goods, the term (d) | 3-10 |
Product manager:
Viktorija Baltramiejūnaitė
Phone:
+370 650 05802
Email:
info@b-a.eu
At this moment product's galąstuvas the edge 14-24° pointsharp price is 14.80 € (fourteen € eighty ct).
Galąstuvas THE EDGE 14-24° PointSHARP - in this moment You are in this product. Galąstuvas THE EDGE 14-24° PointSHARP • Oilstones • Knives and tools • Goods for civilians and soldiers, kaina internetu. This product belongs to a group Oilstones. Buying online this group's products You will save a lot of money. Add product Galąstuvas THE EDGE 14-24° PointSHARP to the cart and You will get a good price or click on a button "Get discount code!". If You don't know how to buy online or You have some questions about a product – click on a button "Ask for". If You're satisfied with this product's price online but right now You don't have enough money – click on a button "Buy by installments". If You're waiting for product's Galąstuvas THE EDGE 14-24° PointSHARP sale – click on a button "Report for price drop". This way with buttons help You will quickly, comfortably and easy get this product. Other popular similar products in a group knives and tools: knife karambit replika cs:go red spider; galastuvas profesionalus ganzo touch pro ultra; profesionalus galąstuvas ganzo touch pro steel; profesionalus galastuvas ganzo touch pro; galąstuvas work sharp wskts mk.2; stalo įrankiai meteor cuterly 3 in 1; knife ganzo g801-or; machete walther mach tac 3, stal 440; multifunctional tool, kariškas; galąstuvas deimantinis taidea (360/600) t1051d orange; for a good price, which You will pick faster online.
Shipping around Lithuania - Vilnius, Kaunas, Klaipėda, Šiauliai, Penevėžys, Alytus, Marijampolė, Mažeikiai, Jonava, Utena, Kėdainiai, Telšiai, Visaginas, Tauragė, Ukmergė, Plungė, Kretinga, Šilutė, Radviliškis, Palanga, Gargždai, Druskininkai, Rokiškis, Biržai, Elektrėnai, Garliava, Kuršėnai, Jurbarkas, Vilkaviškis, Raseiniai, Anykščiai, Lentvaris, Grigiškės, Naujoji Akmenė, Prienai, Joniškis, Kelmė, Varėna, Kaišiadorys, Pasvalys, Kupiškis, Zarasai.